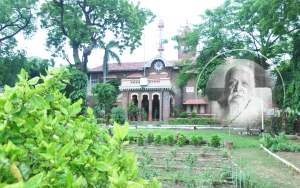 SRI AUROBINDO NIVAS, THE NATIONAL MEMORIAL
Sri Aurobindo was occupying a bungalow as his residence, which is now known as Sri Aurobindo Nivas. Sri Aurobindo society, Baroda which was actively working for spreading the teachings of Sri Aurobindo had requested the State Government to hand over the bungalow occupied by Sri Aurobindo to develop it as a memorial. The Government of Gujarat after careful consideration donated and handed over the bungalow to Sri Aurobindo Society, Baroda on 29th September 1971 to develop it as a permanent memorial to Sri Aurobindo and to spread His message and teachings among the people.
Sri Aurobindo Nivas is a beautiful capacious building built in red-bricks and mortar, has 23 big and small rooms and surrounding open land of about 55,000 sq.ft. During the Birth Centenary Celebration year of Sri Aurobindo. The Divine Mother kindly blessed the devotees at Baroda by granting Holy Relics of Sri Aurobindo  which are enshrined on the open land of the building on 24-11-1972 and a Shrine is constructed over it. A small but beautiful garden and an open-air theatre and health center building are developed and maintained on the open land of the Memorial Building.
To Commemorate the Centenary Year of Sri Aurobindo's Home coming a permanent photo exhibition: SRI AUROBINDO JEEVAN DARSHAN, depicting His life events and selected important writing has been set up in the main building in 1993. The Exhibition is visited and appreciated by large number of people visiting Nivas daily.
Devotees and tourists from near and distant parts of the country and even abroad are visiting daily this Memorial in increasing numbers to pay their homage to Sri Aurobindo. The visitors with some inward opening invariably experience and appreciate the serene calmness and vibrations of deep quietude and peace prevailing in the atmosphere around the Holy Shrine, in Meditation Hall and the campus as a whole. Sri Aurobindo Nivas has since been developed as a National Memorial to Sri Aurobindo.