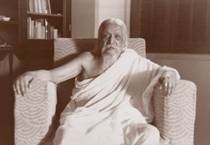 Sri Aurobindo Yogi, Philosopher, Poet, Patriot, Social and Political thinker was born in Calcutta on 15th August, 1872. At the age of seven he was taken to England for education and in 1890 went to King's College, Cambridge. Here he stood in the first class in the classical Tripos and also passed the final examination for the Indian Civil Service. Not wishing to serve in the I.C.S. he disqualified himself by not attending the riding test. He obtained employment in the service of the Maharaja of Baroda and returned to India in 1893.
Sri Aurobindo served thirteen years in the administrative and educational departments of the Baroda State. These were years of preparation for his future work. In 1906, he went to Bengal and took up openly the leadership of revolutionary movement, which for several years he had been organizing in secret. He was the first to put forth, in the pages of his journal Bande Mataram, the ideal of complete political independence for India. Three times prosecuted for his activities, he was each time acquitted for lack of evidence.
Sri Aurobindo had begun the practice of Yoga in 1905. After gathering up in himself the essential elements of past spiritual experiences, he moved on in search of a more complete realization, one that would unite the two poles of spirit and matter. In 1910 he retired from politics and went to Pondicherry in order to devote himself entirely to the spiritual discipline of Yoga.